Socio-Legal Newsletter
The Socio-Legal Newsletter was launched in 1989 to provide news and information to the socio-legal community. It is published three times a year, in the spring, summer and autumn/winter terms.
The newsletter is always in need of good ideas and contributions. Members and non-members are invited to contact the editor, This email address is being protected from spambots. You need JavaScript enabled to view it., with their ideas and comments.
---
Newsletter sponsors
Since the autumn of 2007 the newsletter has been financed by generous sponsorship from UK law schools committed to promoting socio-legal studies. If you would like your institution to be involved in this initiative, please contact the This email address is being protected from spambots. You need JavaScript enabled to view it. for details of the scheme.
The newsletter is also sponsored by the Journal of Law and Society and Social and Legal Studies.

Content
Items for the newsletter are invited from members and non-members. Academics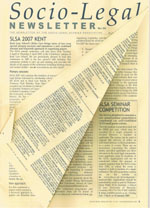 at all stages of their careers are also encouraged to contribute. Possible ideas for submission are:
articles and features on any subject of interest to the socio-legal community
responses or follow-up items to articles and features in previous issues
news items
information about conferences, seminars and workshops
details of forthcoming research projects and work in progress
research findings
information about courses
details of publications (recent or forthcoming)
announcements about promotions, new responsibilities, new initiatives, prizes and awards
... anything else of interest to SLSA members.
Please send contact the editor, This email address is being protected from spambots. You need JavaScript enabled to view it., for details.
---
Schedule
The editor welcomes enquiries about the newsletter throughout the year. Members are reminded via the email network about copy deadlines and publication dates. The schedule is as follows:
Autumn/Winter 2023: No 101
Copy deadline: 23 October 2023
Publication date: 27 November 2023
Spring 2024: No 102
Copy deadline: 29 January 2024
Publication date: 4 March 2024
Summer 2024: No 103
Copy deadline: 20 May 2024
Publication date: 24 June 2024
Autumn/Winter 2024: No 104
Copy deadline: 21 October 2024
Publication date: 25 November 2024
---
Advertising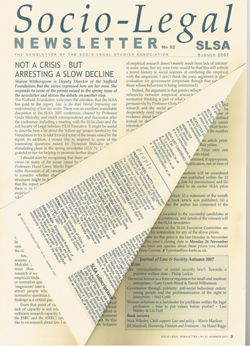 The Socio-Legal Newsletter carries a limited amount of advertising on the back page and in the form of inserts. Current rates are: back page £600; inserts £350 (a surcharge for weight may be applicable). If you are interested in booking, please contact the editor.
---
Contact details
The newsletter editor is This email address is being protected from spambots. You need JavaScript enabled to view it. tel 01227 770189.
---
Newsletter archive
Socio-Legal Newsletters from 2002 to present are available for download.
Summer 2002 Issue 37

Autumn/Winter 2002 Issue 38

Spring 2003 Issue 39

Summer 2003 Issue 40

Autumn/Winter 2003 Issue 41

Spring 2004 Issue 42

Summer 2004 Issue 43

Autumn/Winter 2004 Issue 44

Spring 2005 Issue 45

Summer 2005 Issue 46

Autumn/Winter 2005 Issue 47

Spring 2006 Issue 48

Summer 2006 Issue 49

Autumn/Winter 2006 Issue 50

Spring 2007 Issue 51

Summer 2007 Issue 52

Autumn/Winter 2007 Issue 53

Spring 2008 Issue 54

Summer 2008 Issue 55

Autumn/Winter 2008 Issue 56

Spring 2009 Issue 57

Summer 2009 Issue 58

Autumn/Winter 2009 Issue 59

Spring 2010 Issue 60

Summer 2010 Issue 61

Autumn/Winter 2010 Issue 62

Spring 2011 Issue 63

Summer 2011 Issue 64

Autumn/Winter 2011 Issue 65

Spring 2012 Issue 66

Summer 2012 Issue 67
Autumn/Winter 2012 Issue 68
Spring 2013 Issue 69
Summer 2013 Issue 70
Autumn/Winter 2013 Issue 71
Spring 2014 Issue 72
Summer 2014 Issue 73
Autumn/Winter 2014 Issue 74
Spring 2015 Issue 75
Summer 2015 Issue 76
Autumn/Winter 2015 Issue 77
Spring 2016 Issue 78
Summer 2016 Issue 79
Autumn/Winter 2016 Issue 80
Spring 2017 Issue 81

Summer 2017 Issue 82

Autumn/Winter 2017 Issue 83
Spring 2018 Issue 84

Summer 2018 Issue 85

Autumn/Winter 2018 Issue 86

Spring 2019 Issue 87

Summer 2019 Issue 88

Autumn/Winter 2019 Issue 89

Spring 2020 Issue 90

Summer 2020 Issue 91

Autum/Winter 2020 Issue 92

Spring 2021 Issue 93

Summer 2021 Issue 94

Autumn/Winter 2021 Issue 95

Spring 2022 Issue 96

Summer 2022 Issue 97

Autumn/Winter 2022 Issue 98

Spring 2023 Issue 99